Summer Vegetable Bounty
---
Recipe by Liz Crawshaw
Demonstrated at Decatur Farmers Market on July 22, 2017
---
Ingredients
Market Produce:
1 pint of Cherry Tomatoes (combo of Black Cherry & Sun Gold) from Jody's Farm @ $4/pint
1 x Broccoli Crown from Jody's Farm @ $3/lb
1.25lbs Pole Beans from Jody's Farm @ $4/lb
1 x Corn Cob from Jody's Farm @ $0.50
1 x Shallot from Jody's Farm @ $0.75
Pantry Staples:
2 TBSP Olive oil
1 TBSP Sherry Vinegar (or vinegar of choice)
1/2 Tsp Cumin
1/4 Tsp Celery Seeds (if available)
Drizzle of raw local honey
Salt & Pepper to taste
---
 Directions
Inspired by a recent visit to New Mexico, this dish is adapted from Chef Deborah Madison's newest Vegetarian cookbook. The key to the success of this simple recipe is the freshness of the vegetables and the quality of the olive oil. The acidity of the tomatoes pairs well with the succulent nature of beans in season, the quick-pickled shallots will add a nice punchy bite, and the colors will really stand out for a beautiful summer dish. Herbs can be added as a garnish.
Quick-pickle the shallots by slicing thinly and submerging in about a TBSP of sherry vinegar with a drizzle of honey and a pinch of salt. Set aside for 10-15 minutes.
Boil the sweet corn in salted water for 10 minutes or until a fork easily pierces the kernels. Set aside to cool and then carefully slice off the cob with a steak knife.
Trim the tops off the beans and rinse thoroughly. Drop into plenty of boiling, well-salted water (can top up and reuse the water from the corn) and cook them, without a lid, until they are almost as tender as you want, but not quite.
When nearly done, scoop out the beans and dump onto a clean towel to absorb the cooking water. (This is an alternative to blanching and shocking in cold water, which stops the cooking and results in a bright, crisp vegetable). The beans will finish cooking as they dry in less than a minute and the result will be a succulent and soft, but not mushy bean.
While the beans are cooking, halve the tomatoes, and toss them with the sweet corn in a medium bowl with a little olive oil, a pinch of salt & pepper, the cumin, and the celery seeds. For this adaptation, I also blanched some broccoli quickly in boiling water, rinsed it in cold water, and sliced it thinly, before adding to the bowl of tomatoes and corn. 5.
Toss the beans in a separate bowl with plenty of olive oil.
Add salt and pepper to taste if necessary. Pour out onto a platter and cover with the tomatoes, corn, and broccoli.
Top with the pickled shallots, and herbs of choice (purple basil is a beautiful complement). Serve warm and eat with fingers!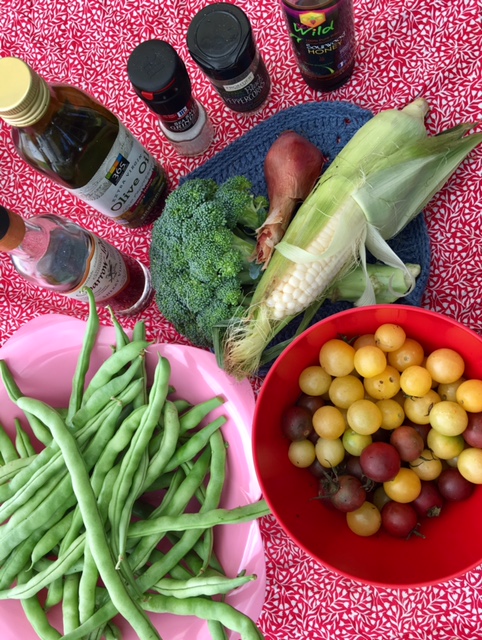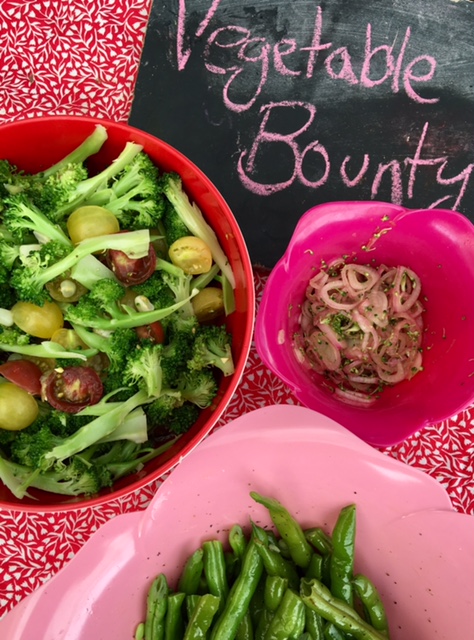 ---
Our At-Market Educational chef demos are made possible by Les Dames d'Escoffier International – Atlanta Chapter and Piedmont Healthcare.