CFM is proud to release a new series of seasonal community cookbooks featuring recipes and stories from the individuals who come together each week to make our farmers markets happen: farmers, vendors, market supporters, and chefs, including Billy Allin, Terry Koval, Steven Satterfield, Jarrett Stieber, and Virginia Willis. And, we have tested and reviewed these recipes ourselves to ensure that you have a wonderful experience cooking them at home as well!
Just as these recipes celebrate the ephemeral ingredients of each season, these books serve as portraits of our growing community. We are all tied together by the food we cook and eat, and every recipe in our book tells a unique story about its contributor. We hope that you enjoy reading, collecting, and cooking from these books, and that you'll share your stories, too – with each other, with your neighbors, and in our next edition, Fall!
The books are available to purchase for $12 at the market info booth at all of our farmers markets, A Capella Books, Bellina Alimentari, Cover Books, and Preserving Place. We hope to see you (and your recipes) soon!
To purchase the books online, please visit The Bitter Southerner or Fresh Harvest websites.
---
Spring Cookbook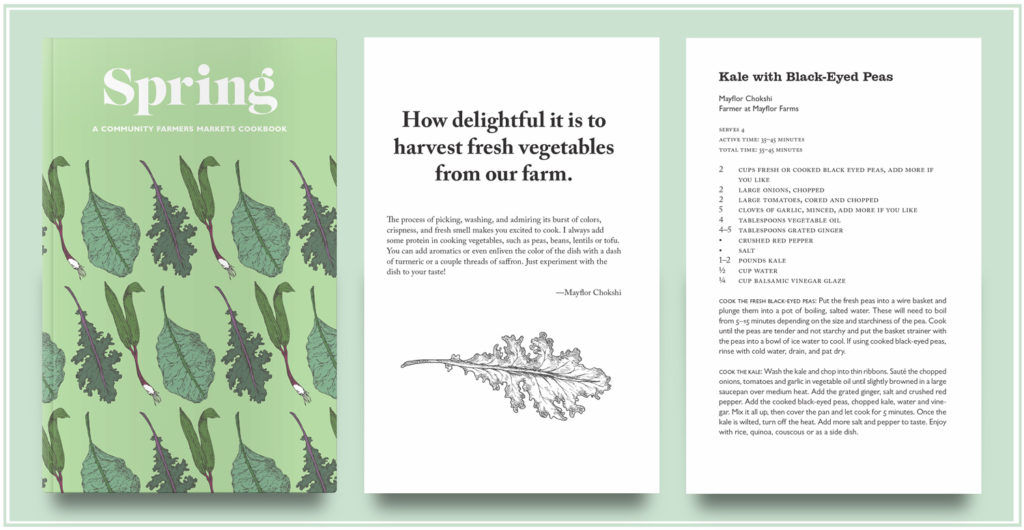 Recipe Preview:
Julienned Snow Pea Salad, Braised Grass-Fed Beef Cheeks with Green Tomato Salsa Verde, Slow Cooked Duck with Pickled Blueberries, Blueberry Clafoutis
Featuring contributions from:
Philip Meeker, Steven Satterfield, Crack in the Sidewalk Farmlet, Quiche and Tell, Susan Gonzalez, The Funny Farm, Virginia Willis, Mayflor Farms, and more!
---
Summer Cookbook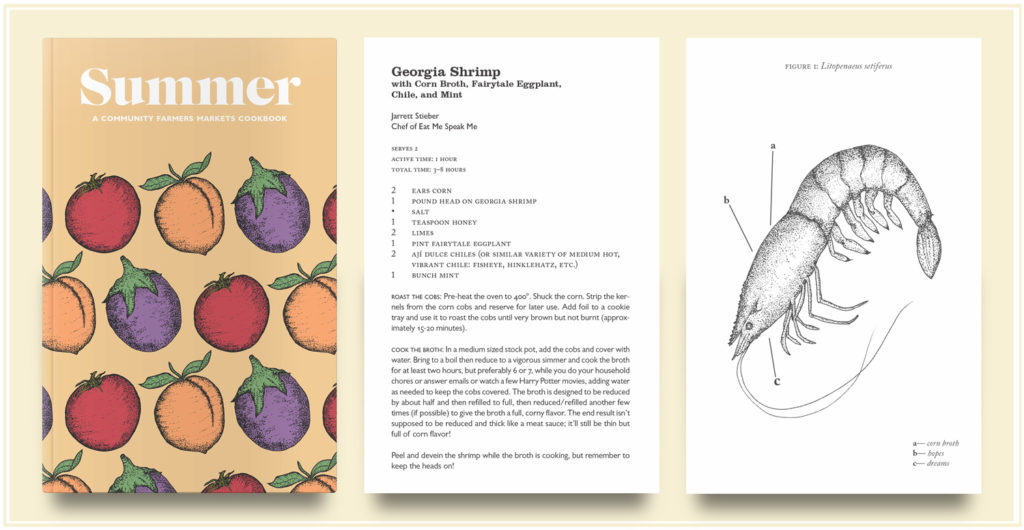 Recipe Preview:
Georgia Shrimp with Corn Broth, Rummy Peach Pecan Conserve, Blistered Shishito Peppers, Grilled Summer Squash and Corn Salad with Nam Prik Pao Chili Jam Vinaigrette, Georgia Peach Shortcake
Featuring contributions from:
Terry Koval, Martha McMillin, Rag & Frass Farm, Seth Freedman of PeachDish, Jarret Stieber, Pearson Farm, King of Pops, and so much more!
---
Fall Cookbook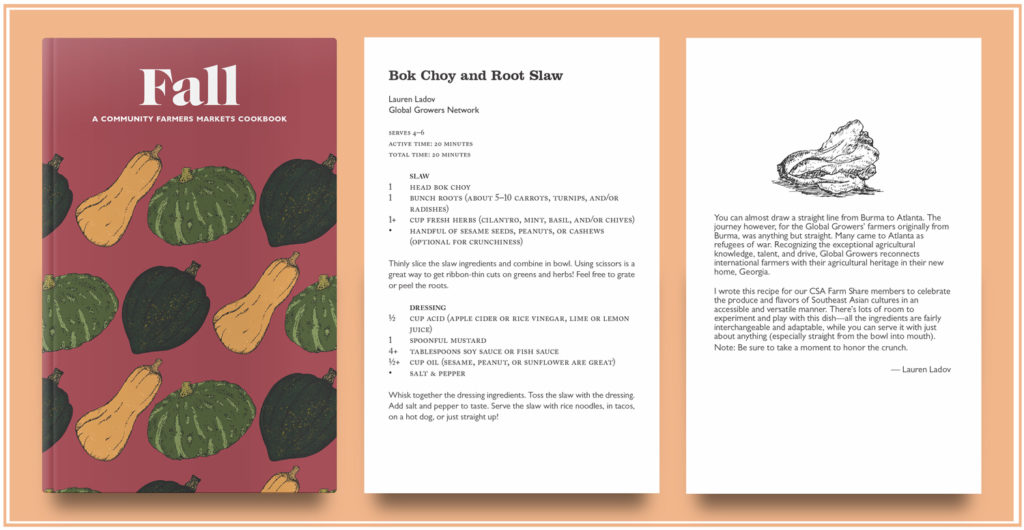 Recipe Preview:
The Most Beautiful Slaw You Ever Saw, Crispy Sunchokes with Garlic, Lemon, and Parsley, Pumpkin Polenta with Roasted Beets and Brussels Sprouts, Beef, Rice, and Manchego Stuffed Acorn Squash, Apple Crisp Tart with Pecan Crumb
Featuring contributions from:
Global Growers, Andreas Müller of Revival, La Calavera Bakery, Foraging guide from Robby Astrove, David Sweeney, Cosmos Organic Farm, Christine Fleming, Yohana Solomon of Kushina Catering, Kevin Gillespie of Gunshow, Sarah O'Brien of Little Tart Bakeshop, and so much more!
---
Winter Cookbook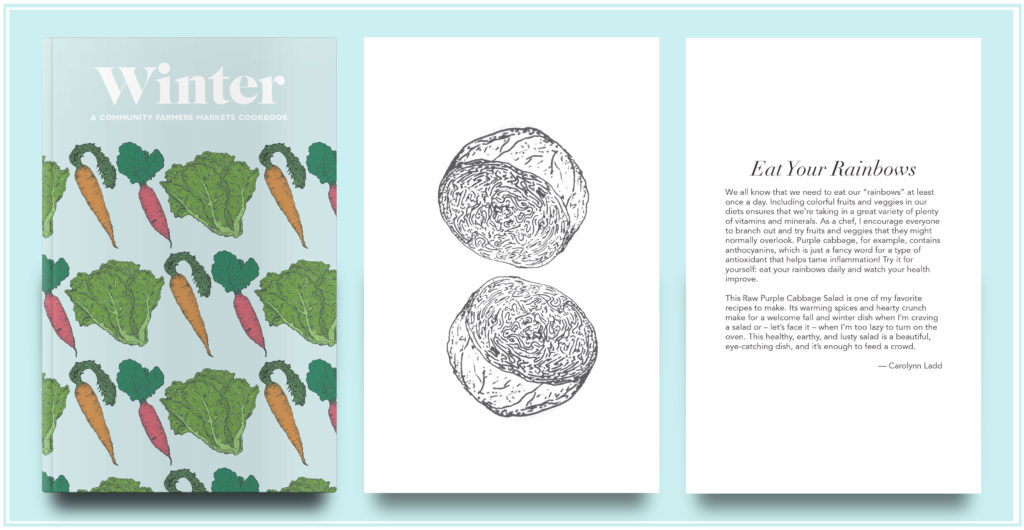 Recipe Preview:
Raw Purple Cabbage Salad, Vietnamese Daikon and Carrot Pickles, Parmesan and Sunchoke Soup, Lasagne di Zucca, Whole Stuffed Escarole, New Year's Chili, Roasted Winter Squash and Truffle Bisque, Pecan Sorghum Pie
Featuring contributions from:
Joey Ward of Gunshow, Chef David Sweeney, Duane Kulers of Octopus Bar, Aluma Farm, Carolynn Ladd of A Date with Figs, and so much more!
---
We would like to thank the LUBO FUND for its generous sponsorship of the Spring edition and Second Self Beer Company for their generous sponsorship of the Fall edition.