Recipe by Dani San Filippo
Demonstrated at the Decatur Farmers Market on Saturday, May 21, 2016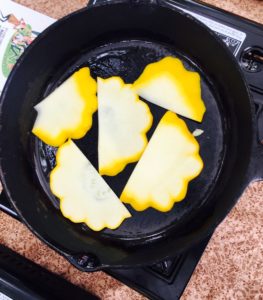 Ingredients: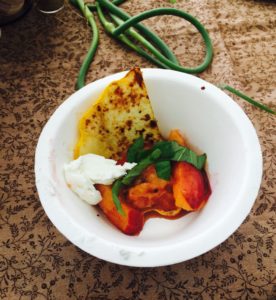 Directions:  
Reduce the balsamic vinegar: Boil about 1/2 cup balsamic vinegar for about 10 to 15 minutes or until taste. The longer the vinegar is boiled, the sweeter it will be.

Slice pattypan squash into 1/4 inch sections. Slice the garlic scapes thin. Quarter and slice the peaches. Chop basil into small strips (chiffonade). Crumble goat cheese.

Heat a skillet over medium high to pan sear the squash. Alternatively, the squash can be grilled. Cook 3-4 minutes on each side until soft, remove. Add peaches and scapes to skillet and cook 2-3 minutes until soft and juices are released.

Layer peaches and squash. Top with a sprinkle of basil. Drizzle reduced balsamic on top. Add crumbled goat cheese if using.