Fresh Tomato Sauce over Green Goddess Fettuccine
---
Recipe by Educational Chef Liz Crawshaw
Demonstrated at Decatur Farmers Market on August 12, 2017
---
Ingredients
Market Supplies:
1lb Green Goddess Fettuccine from Rampasta @ $6/lb
1/2lb Cherry Tomatoes, sliced in half from Partnership Farm @ $4/lb
2lbs Vine Tomatoes from Jody's Farm @ $2/lb
Bunch of Basil, sliced thinly (chiffonade style) from Jody's Farm @ $2.50
1 Shallot, diced
2-3 Garlic Cloves, diced from Jody's Farm @ $1
Pantry Staples:
1-2 TBSP Ghee
1 TBSP Olive Oil
1 Bay Leaf
1 Tsp Cumin
1/2 Tsp Celery Seed
Heavy Sprinkle of Dried Oregano
Splash of Balsamic Vinegar (to deglaze pan)
Salt & Pepper to taste
---
 Directions
1Quarter the fresh vine tomatoes and place in a large saucepan with 3-4 TBSP of water. Cover the pot, turn the heat to medium-high, and cook until they're broken down and have given up their juice. (Approx 25-30 mins).
While tomatoes are cooking, heat the ghee in a small frying pan on medium and add the cumin and celery seed. Once you can smell the spices, add the shallot & garlic. Saute until they soften and start to caramelize. Then, add a splash of balsamic to deglaze the pan and complete the flavor profile. Set aside.
Prep the cherry tomato/basil garnish. Make a chiffonade of basil by stacking leaves on top of one another, gently roll into a cigar, and use a sharp knife to slice into ribbons. Toss with the cherry tomato halves, the olive oil, and S&P to taste.
After 30 minutes, check the tomatoes. If a thin sauce is desired, pass the tomatoes through a food mill, or strain through a sieve to separate seeds and skin from the juice. Return sauce to heat and simmer with the bay leaf and oregano until some of the water has cooked away and it has more body.
Fill a large pot with water for the pasta. Once boiling, carefully drop in the fettuccine and allow to cook for 3-4 minutes. Drain and lightly toss the pasta with the sauce.
Garnish with the tomato/basil mixture and any additional seasoning. This recipe will vary depending on the type of tomato available and is best when the tomatoes are at the peak of their season. Taste the sauce throughout the cooking process and adjust seasoning as necessary.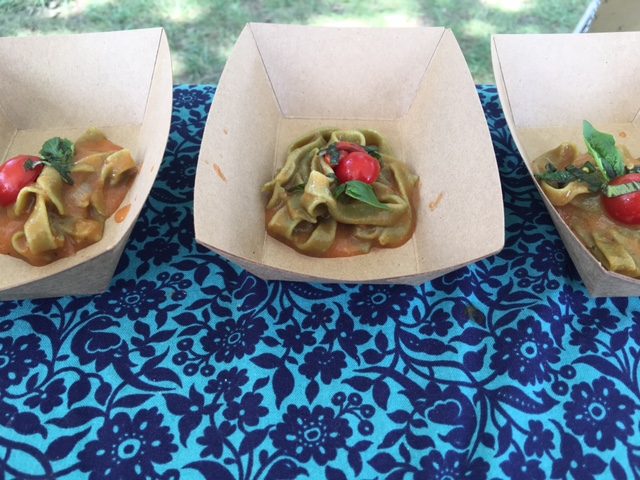 ---
Our At-Market Educational chef demos are made possible by Les Dames d'Escoffier International – Atlanta Chapter and Piedmont Healthcare.