Recipe by Matthew Ridgway of Gypsy Kitchen and Southern Gentleman
Demonstrated at the Ponce City Farmers Market on May 24, 2016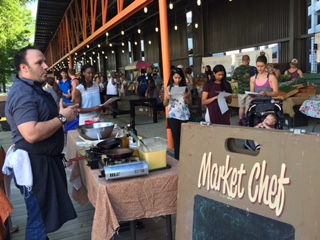 Ingredients:
Farmer's cheese (Shanklish)
1/2 Cup feta cheese from Formaggio
1/2 Cup goat cheese or cream cheese from Formaggio
3 Tbsp. yogurt or labneh
1 Tbsp. ground sumac
1/4 tsp. chili flake
1/4 tsp. ground white pepper
1/4 tsp. dried oregano
Labneh
1 Cup milk
1/2 Cup heavy cream (bring to a boil then cool to 70 degrees)
1/2 Cup creme fraiche
2 Tbsp. live yogurt (cover for 48 hours in a warm place)
Chickpea Socca Cake
1 Cup chickpea flour
2 quarts of water
3 eggs
3 Tbsp. olive oil
Salt and pepper
Torn herb and bitter green salad
Directions:
Farmer's Cheese
Combine the feta, yogurt and goat cheese
Add the spices. Mix to combine, but do not overmix
Refrigerate overnight
Chickpea Pancakes
Mix ingredients to combine with a whisk and let sit for three hours
Heat a cast-iron or non-stick pan with olive oil until smoking
Add 3 ounces of batter to the pan, pouring it in like a crepe and cooking both sides of the pancake until golden and crunchy on both sides. Remove from pan and set aside.