Recipe by Rebecca Lang
Demonstrated at the Grant Park Farmers Market on May 22, 2016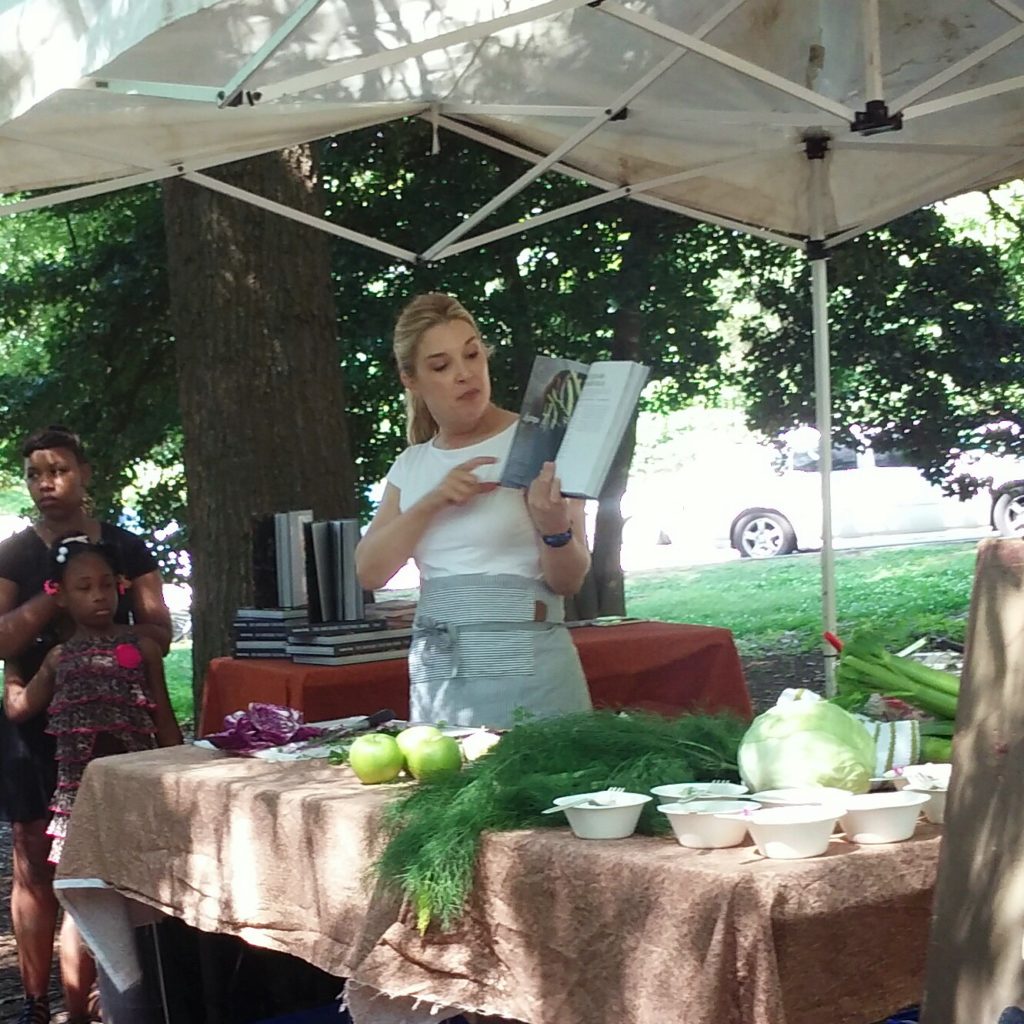 Fennel brings a light and bright flavor to a grilled skirt steak. Skirt steak is packed with flavor and delicously tender after marinating. It's a mainstay at our house. Try adding corn tortillas on the grill for impromptu tacos.
Makes 4 servings
Hands-on: 30 minutes
Total: 1 hour
Ingredients:
Steak
1⁄3 cup red wine vinegar
1⁄3 cup extra virgin olive oil
4 garlic cloves, minced
1⁄2 tsp. Dijon mustard
1⁄2 tsp. table salt
1⁄2 tsp. freshly ground black pepper
1 1⁄2 lb. skirt steak
Cilantro
Fennel Slaw
1 1⁄4 cups thinly sliced fennel bulb
1⁄4 cup sliced green onions
2 Tbsp. thinly sliced celery
1 Tbsp. mayonnaise
2 Tbsp. fresh lime juice
1 Tbsp. chopped fresh cilantro
1 tsp. diced jalapeño pepper
1 tsp. red wine vinegar
1⁄8 tsp. table salt
1⁄8 tsp. freshly ground black pepper
Directions:
Prepare steak: Preheat grill to 350° to 400°F (medium-high) heat. In a large zip-top plastic bag, combine the vinegar, olive oil, garlic, mustard, salt, and pepper. Shake to combine. Add steak to the bag, seal bag, and marinate 30 minutes. Remove steak from marinade, discarding marinade.
2. Grill steak: 10 minutes, turning once, for medium-rare. Let steak rest for 10 minutes before slicing.
3. Prepare fennel slaw: Combine all ingredients. Chill until ready to serve.
4. Slice each strip o f steak in half to make 2 shorter strips. Slice down the long side (across the grain) of each strip to create 1⁄2-inch-thick slices. Serve with slaw.
Sage Advice
Many Southern cooks grew up learning to peel celery to remove the tough strings on the outer layer of the stalks. Stringing celery has gotten less common with the step being skipped more and more frequently. If serving celery raw or in larger pieces, I like to use a "Y" peeler to remove the long fibrous strings. When I finely chop it for cooking, I save a little time and omit the peeling.