Recipe by Deborah VanTrece
Demonstrated at the Westside Farmers Market on June 19, 2016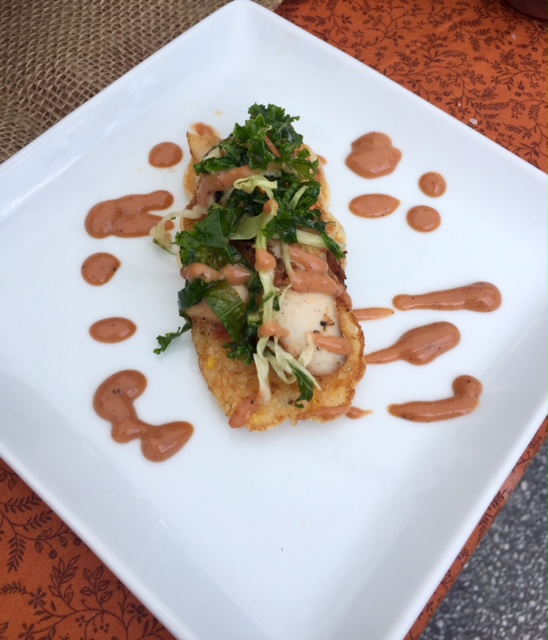 Ingredients:
GA Peach and Fresh Corn Hoe Cake
2 Cups cornmeal, self-rising
1 1/4 Cups milk
2 Tablespoons brown sugar, light
Pinch of house seasoning (salt and pepper), to taste
1 large egg
Corn
2 Peaches, diced (or 1 cup) from Pearson Farm
2 Tablespoons red pepper, diced small
1 Tablespoon green onion, chopped
1 Tablespoon cilantro, chopped
Oil as needed
Fresh Cabbage and Kale Slaw:
2 Cups kale, chiffonade,
2 Cups cabbage, chiffonade
1/4 cup sweet onion, thinly sliced
1/2 cup carrots, shredded
1/2 Cup extra virgin olive oil
1/2 Cup apple cider vinegar
1/4 Cup honey
2 Tablespoons dijon mustard
1 Tablespoon garlic seasoning
1 Tablespoon onion seasoning
Salt and white pepper to taste
Directions:
GA Peach and Fresh Corn Hoe Cake
Heat a medium sauté pan with a little oil.
Sauté corn and red peppers.
Add in the peaches, season with a pinch of house seasoning, and set aside to cool.
Mix together cornmeal, milk, egg, brown sugar, and house seasoning to taste in a large mixing bowl.
Fold in sautéed items, add green onion and cilantro.
In a large skillet, add 2 tablespoons of oil. When the oil is hot enough to see ripples, add 2 tablespoons of batter for each hoe cake. Do not overcrowd the pan.
Cook on medium-high heat until you begin to see bubbles forming and the other side is golden brown.
Cook hoe cakes in batches, adding additional oil as needed.
Place finished cakes on a cooling rack or paper towels. If made a head of time, warm on sheet pan before serving.
Fresh Cabbage and Kale Slaw:
Mix prepared vegetables in a large bowl
In a blender, add the vinegar, honey, mustard and seasonings. Pulse to blend and taste.
With the blend going, drizzle in oil until incorporated and dressing is thick
Toss vegetables with dressing and allow to chill for at least 30 minutes.
Plate with the hoe cakes.