Our partnerships with local chefs, bartenders and restaurants are crucial to the success of our markets. Our chefs and bartenders volunteer to demonstrate preparation of seasonal produce during markets; they work tirelessly to contribute to our fundraising and community events; and many of their restaurants source local ingredients from our farmers and producers. We are so grateful for the investments they have made in our local food movement.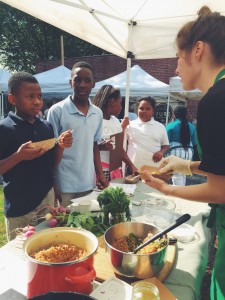 Billy Allin (Cakes & Ale)
Jason Assenmacher (Dine with Jason)
Chasidy and Billy Atchison (Banjo Coffee)
Patric Bell-Good (Max's Wine Dive)
Dave Berry (Bellina Alimentari)
Greg Best (Ticonderoga Club)
David Bies (Ticonderoga Club)
Rose Bigalow (Chef Rose Bigalow)
Andrea Blanton
Nicole Bluh (Cherokee Moon Mixology)
Natasha Brewley (Chef Beee)
Sean Brock (Minero)
Angus Brown (Lusca / Octopus Bar)
Paul Calvert (Ticonderoga Club)
Kate Christman (Three Squares Kitchen)
Hannah Chung (Simply Seoul)
Cathy Conway (Avalon Catering)
Carla DeRosa (RawXit)
Sarah Dodge (Preserving Place)
Ashley Dowling (Octopus Bar)
David Durnell (Bocad0)
Jessica Elizondo (More Than Food)
Ben Fadling (No. 246)
Seth Freedman (Forage & Flame)
Tim Frost (Bookhouse Pub)
Todd Ginsberg (General Muir / Yalla / Fred's Meat & Bread)
Julian Goglia (The Pinewood)
Asha Gomez (Spice to Table)
Andy Gonzales (Steinbeck's)
James Hammerl (Doggy Dogg)
Chris Harper
Savannah Haseler (Twain's Brewpub & Billiards)
Chavez Hernandez (Mason Tavern)
Kenan Hill (Kitchen 1204)
Brian Horn (JCT Kitchen)
Maggie Huys (Saltyard)
Scotley Innis (Ormsby's)
Andrew Isabella (No. 246)
Leif Johnson (Bellwoods)
Jason Kemp (Family Dog)
Eli Kirshtein (The Luminary)
Terry Koval (Wrecking Bar)
Duane Kulers (Octopus Bar)
Carolyn Ladd
David Larkworthy (5 Seasons Brewpub)
Mike LaSage (Bone Lick BBQ)
Nick Leahy (Saltyard)
Jenny Levison (Souper Jenny)
Michael Lo (Makan)
Miles Macquarrie (Kimball House)
Shanna Mayo (Victory Brands)
Jessica McMorris (Allergy Friendly Vegetarian)
Bill Mealor (Mealor Family Farms)
Philip Meeker (Bright Seed)
Zach Meloy (Better Half)
Sarah O'Brien (Little Tart Bakeshop)
Kevin Outz (Spotted Trotter / The Cockentrice)
Casey and Robbie Pacheco (Cafe 458)
Daniel Peach (Chai Pani)
Todd Richards (White Oak Kitchen)
Hudson Rouse (Homegrown)
Eddie Russell (Argosy)
Hector Santiago (El Super Pan)
David Sweeney
Steven Satterfield (Miller Union)
Julia Schneider (Octane)
Cara Sheffield
Jerry Slater (H. Harper Station)
Andrew Smith (West Egg Cafe)
Ryan Smith (Staplehouse)
Jarrett Steiber (Eat Me Speak Me)
Zeb Stevenson (Watershed)
Allen Suh (Jook #0)
Nicole Taylor (The Up South Cookbook)
Landon Thompson (Cooks & Soldiers)
Kellie Thorn (Empire State South)
Almeta Tuloss (Cherokee Moon Mixology)
Paola Villafane
Melanie Wade (Golda Kombucha)
Jeffery Wall (Kimball House)
Adam Waller (Bocado)
Joey Ward (Gunshow)
Virginia Willis (Virginia Willis Culinary Enterprises)
Guy Wong (Le Fat)
If you would like to join us as a partner chef for our 2016 season, please email our Director of Programs at jenna@cfmatl.org.