Thank You to Our Chefs & Bartenders!
Our partnerships with local chefs, bartenders and restaurants are crucial to the success of our markets. Our chefs and bartenders volunteer to demonstrate preparation of seasonal produce during markets; they work tirelessly to contribute to our fundraising and community events; and many of their restaurants source local ingredients from our farmers and producers. We are so grateful for the investments they have made in our local food movement.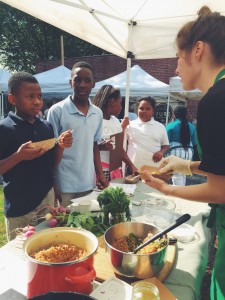 Anu Adebara (Avalon)
Sean Allen (Better Half)
Billy Allin (Cakes & Ale)
Nick Anderson
Gizzy Barton (Bellina Alimentari)
Matthew Basford (Canoe)
Michael Bertozzi (Two Urban Licks)
Natasha Brewley (Chef Beee)
Angus Brown (Lusca / Octopus Bar)
Jackie Chang (O-Ku)
David Choquette (Botwallia)
Cathy Conway (Avalon Catering)
Julio Delgado (JP Atlanta)
Carla DeRosa (RawXit)
Sarah Dodge (Preserving Place)
Gary Donlick (Bistro Niko)
Ashley Dowling (Octopus Bar)
Jessica Elizondo (More Than Food)
Chris Edwards (Restaurant Eugene)
Seth Freedman (PeachDish)
Tim Frost (Bookhouse Pub)
Liz Garner (Garner Girls)
Todd Ginsberg (General Muir / Yalla / Fred's Meat & Bread)
Andy Gonzales (Steinbeck's)
Justin Gottselig (No. 246)
Rob Haan (Mediterranea)
Jessica Harlan
Linda Harrell (Cibo e Beve)
Savannah Haseler (Twain's Brewpub & Billiards)
Lis Hernandez (Arepa Mia)
Kenan Hill (Kitchen 1204)
Josh Hopkins (Empire State South)
Brian Horn (JCT Kitchen)
Maggie Huys (Saltyard)
Scotley Innis (Ormsby's)
Pano Karatassos (Kyma)
Eli Kirshtein (The Luminary)
Terry Koval (Wrecking Bar)
Carolynn Ladd (A Date with Figs)
Nick Leahy (Saltyard)
Michael Lo (Makan)
Christopher Maher (ONE Midtown Kitchen)
Shanna Mayo (Victory Brands)
Ben McCarter (Mason Tavern)
Martha McMillan (Preserving Place)
Matt Meadows (The Iberian Pig)
Philip Meeker (Bright Seed)
Zach Meloy (Better Half)
Andreas Muller (Revival)
Mercedes O'Brien (Gunshow)
Sarah O'Brien (Little Tart Bakeshop)
Kevin Outz (Spotted Trotter / The Cockentrice)
Michael Perez (Coletta)
Piero Premoli (Pricci)
Joseph Ramaglia (White Oak Kitchen and Cocktails)
Matt Ratcliffe (BLT Steak)
Matthew Ridgway (Gypsy Kitchen and The Southern Gentleman)
Eric Roberts (The Iberian Pig)
Hector Santiago (El Super Pan)
Steven Satterfield (Miller Union)
Charlie Schwab (Buckhead Diner)
Andrew Smith (West Egg Cafe)
Ryan Smith (Staplehouse)
Jarrett Steiber (Eat Me Speak Me)
Zeb Stevenson (Watershed)
David Sweeney
Landon Thompson (Cooks & Soldiers)
Kellie Thorn (Empire State South)
Wesley True (The Optimist)
Deborah VanTrece (Twisted Soul)
Luca Varuni (Varuni Napoli)
Paola Villafane
Jeffery Wall (Kimball House)
David Waller (Taqueria del Sol)
Joey Ward (Gunshow)
Matt Weinstein (ONE Midtown Kitchen)
Tyler Williams (TAP)
Virginia Willis (Virginia Willis Culinary Enterprises)
Ian Winslade (Murphy's)
George Yu (Makan)
If you would like to join us as a partner chef for our 2016 season, please email our Director of Programs at jenna@cfmatl.org.