This delicious recipe comes to us from PeachDish, an Atlanta-based company that delivers delicious farm-to-home meal kits for chef-created recipes right to your door. We're excited to have them as a newer fixture to our markets, and over this winter, you can find them at our Decatur Farmers Market on the first Wednesday of each month. Recipe and photos courtesy of PeachDish.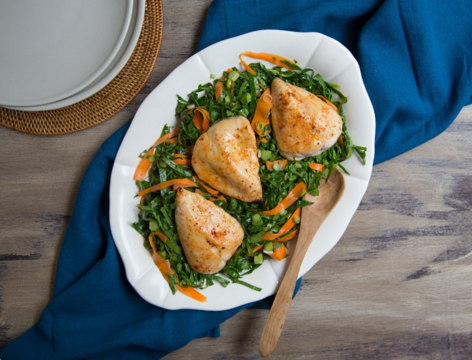 Mayhaw, a fruit that grows wild in the swamps and river banks of the South, is one of the first fruits each spring to end up in the home economist's jelly jars. In this meal, an especially tasty mayhaw pepper jelly and cider vinegar combine in both the chicken marinade and the collard slaw, but express themselves in very different ways.
Ingredients
12 oz. boneless, skinless chicken breasts*
2 tsp. turbinado sugar, divided
1/2 tsp. PeachDish salt (or seasoning salt of your choice), plus more as desired, divided
2 tbsp. mayhaw pepper jelly, divided (or pepper jelly from one of our vendors!)*
2 tbsp. cider vinegar, divided
2 tbsp. olive oil
3 – 5 small to medium-sized collard green leaves*
2 green onions*
1 medium-sized carrot*
You can find chicken breasts, pepper jelly, collards, green onions and carrots all at our Decatur Farmers Market, Wednesdays from 3 to 6pm.
Instructions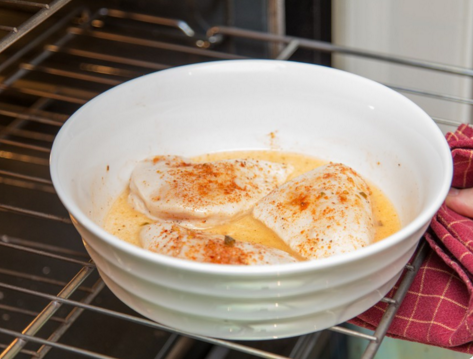 1. Preheat oven to 250°F In a broiler-safe baking dish, season chicken with 1 packet sugar and 1/2 tsp. PeachDish salt. In a large bowl, whisk together pepper jelly and cider vinegar. Pour about one-third of the combined liquid over the seasoned chicken. Reserve the remaining liquid in the bowl for the slaw. Place the seasoned chicken in the oven, and set the timer for 15 minutes.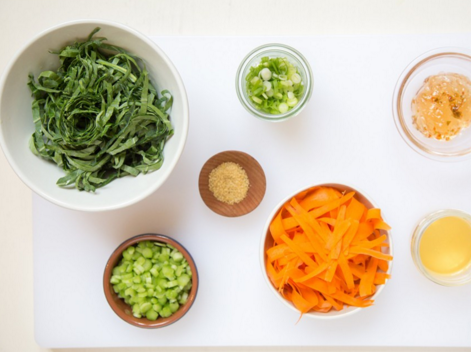 2. While chicken cooks, prepare your mise en place: Remove stems from collard greens; slice the stems very thinly into rings, discarding the tough last inch or so at the bottom of the stem. Roll the collard leaves and cut them into thin ribbons. Trim ends from green onions; thinly slice into rings. Use a vegetable peeler to shave carrot into ribbons.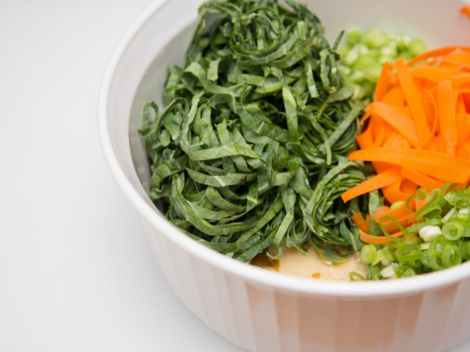 3. When the timer goes off, remove chicken from oven. It should be nearly cooked. Pour juices into a small bowl and set aside separately. Place a rack in the highest position, and set oven to broil. Allow the broiler to heat while you let the chicken breast rest.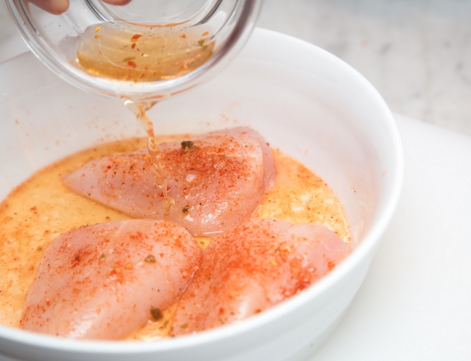 4. To make the collard slaw: Transfer reserved jelly/vinegar mixture add olive oil and remaining 1 packet sugar. Stir together well. Add the collard stems and leaves, green onion and carrots. Mix together well, pressing to crush the greens a bit, until thoroughly combined. Taste and adjust seasoning as desired.
5. Put the chicken pan back in the oven on the top shelf under the broiler, and broil 2-3 minutes or until browned. Remove and let rest for 3-4 minutes before serving.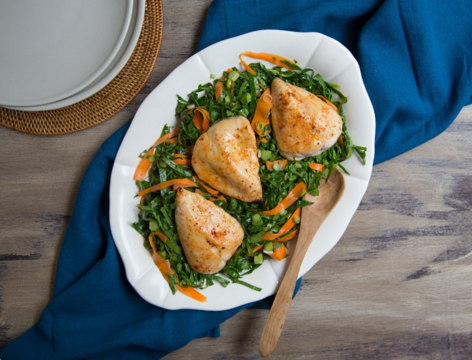 6. Divide the collard slaw between 2 plates. Top with the chicken and reserved juices. Enjoy!