Arugula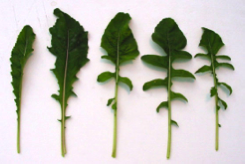 Plant Family: Brassicaceae (mustards/cabbage family), which includes broccoli, Brussels sprouts, cabbage, cauliflower, mustards, turnip, radish, and kohlrabi.
Taste: mustardy, peppery, tart, spicy, hints of nut flavor. Very robust and rich!
Health benefits: Leaves are high in vitamin C and potassium. Seeds are rich in protein and carbohydrates.
Versatility & Recipes: Arugula leaves, stems, flowers and seeds are all edible.
Storage: As with most greens, leaves should be rinsed with cool water as soon after harvesting as possible. Spin, pat, or leave out to air dry. Store in plastic bags in refrigerator for 1-2 weeks.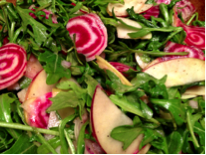 Arugula and Radish Salad*
Total time: 10 minutes
Serves: 8
Ingredients:

·      1 teaspoon Dijon mustard

·      2 tablespoons fresh lemon juice

·      Coarse salt and ground pepper

·      2 tablespoons olive oil

·      4 to 5 bunches arugula (1 ¼ pounds total; thick stems removed), washed well and dried

·      1 bunch radishes (8 ounces), sliced

Directions:

In a large bowl, whisk together mustard and lemon juice; season with salt and pepper. Whisk in oil. (To store, refrigerate, up to 1 day.) Add arugula and radishes to bowl, and toss to coat. Serve salad immediately.

 
Recipe from- http://www.marthastewart.com/314629/arugula-and-radish-salad