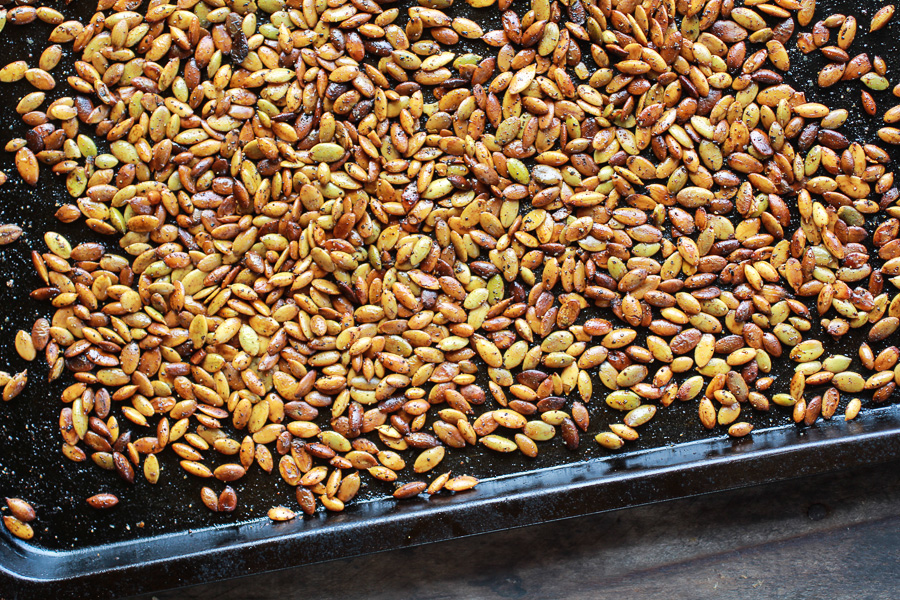 With our big pumpkin sale happening this Wednesday with Global Growers Network at the Decatur Farmers Market, you'll definitely want this simple recipe in your kitchen wheelhouse. Toasting pumpkin seeds is easy and quick, and you can use the seeds for in so many ways! There's just one little trick here that you may not know to do, that makes the process a whole lot easier, and it works with all squash seeds.
Instructions
Preheat the oven to 350°F. Once you carve into the top of the pumpkin, scoop the seeds into a large bowl of water. While submerged, rub the seeds between your hands / fingers to remove the stringy pulp attached. You'll find that the seeds and pulp separate easily, which is good because the pulp often burns easily. So, separate the seeds and pulp, and lay the seeds out on a towel to dry. Pat them to get rid of excess moisture, and toss them on a baking sheet with olive oil and salt. Bake for 10 – 12 minutes or until golden and fragrant, stirring once or twice to make sure they cook evenly.
If you manage to not eat all of them immediately, they're great in salads, as a garnish on soups, or in a Yucatan-style salsa served with chips. Enjoy!