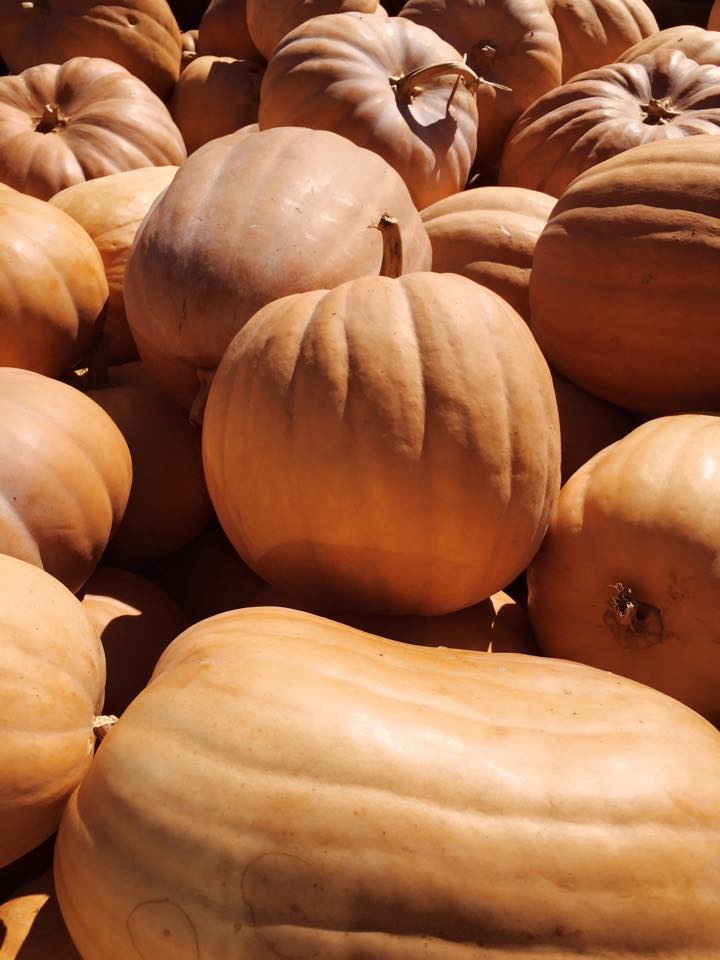 This recipe comes to us from our friends at Global Growers Network, who will be selling a bounty of big, heirloom pumpkins at market on this coming Wednesday. Come by to pick out your own pumpkin for Halloween or for dinner! Adapted from traditional West African recipes and flavors to use Georgia ingredients.
The soup will be blended, so the ingredients can be roughly chopped to make for quick preparation time. You can easily throw all these ingredients in a pot and cook them, but the flavors will be more developed with the layered cooking approach outlined here. Using a large Georgia pumpkin, I make an enormous batch of this soup, often using multiple pots on the stove. Share with family & friends, then freeze the rest in serving portions to eat throughout the winter months. The nutrients in the pumpkin and the peanut butter makes this soup hearty and filling.
Ingredients
¼ cup peanut oil or other vegetable oil. (Coconut oil adds a unique flavor, too)
6 cloves garlic, chopped
2 inch piece of ginger, chopped
1 inch piece of fresh turmeric, chopped (Optional. Substitute powdered turmeric if
1 hot pepper (optional)
2 large onions, chopped
12 cups pumpkin meat, chopped
1.5 cups peanut butter
2 quarts broth (chicken or vegetable), more as needed
Optional garnishes: cilantro, green onion, peanut or chive oil drizzle
Instructions
1. Heat oil over medium heat in a large, thick pot. Dutch ovens are ideal.
2. Once oil is shimmering with heat, add garlic, ginger, and turmeric. Sautee for 30
3. Add onions to pot. Sautee, stirring occasionally, for 5-10 minutes until onions are cooked down.
4. Add chopped pumpkin to pot, then season with salt and pepper.
5. Stir with onion mixture. Continue stirring occasionally for 5-10 minutes. This helps the pumpkin to absorb the aromatic flavors. (Carrots and sweet potatoes are optional additions at this point in the recipe, too. Use what you have!)
6. Add peanut butter. Stir and mix. The peanut butter should begin to melt with the heat.
7. Add broth to pan. Bring to a simmer.
8. Continue cooking until pumpkin is tender, approximately 20-40 minutes. The time will depend on the size of your pumpkin chunks. The liquid (broth) should continue to cover all of the vegetables. Add more liquid as needed.
9. Once all vegetables are tender (easily pierced with fork), remove pot from heat and allow to cool until the liquid is comfortable to touch. The liquid should be 1" or less over the top of the vegetables. If there is too much liquid, use a ladle to remove some to a bowl (Save it for another use. It will be yummy.)
10. Use immersion blender in pot or transfer to a blender in batches. Blend until smooth. Taste for seasoning, and add salt & pepper as needed.
11. Serve warm with a crusty baguette, fresh pita, or homemade croutons for a full meal.
– Spice it up with more hot chilies or cayenne powder.
– Adapt the seasoning using your favorite curry spices.
– Add lemongrass and cilantro to incorporate Southeast Asian flavors.
– For even more nutrition, add fresh greens (e.g., spinach, mustard, chard, kale, collards) after blending and reheat the soup until the greens are tender (or blanch greens before