Adapted by Suzanne Welander from GOURMET | JULY 2003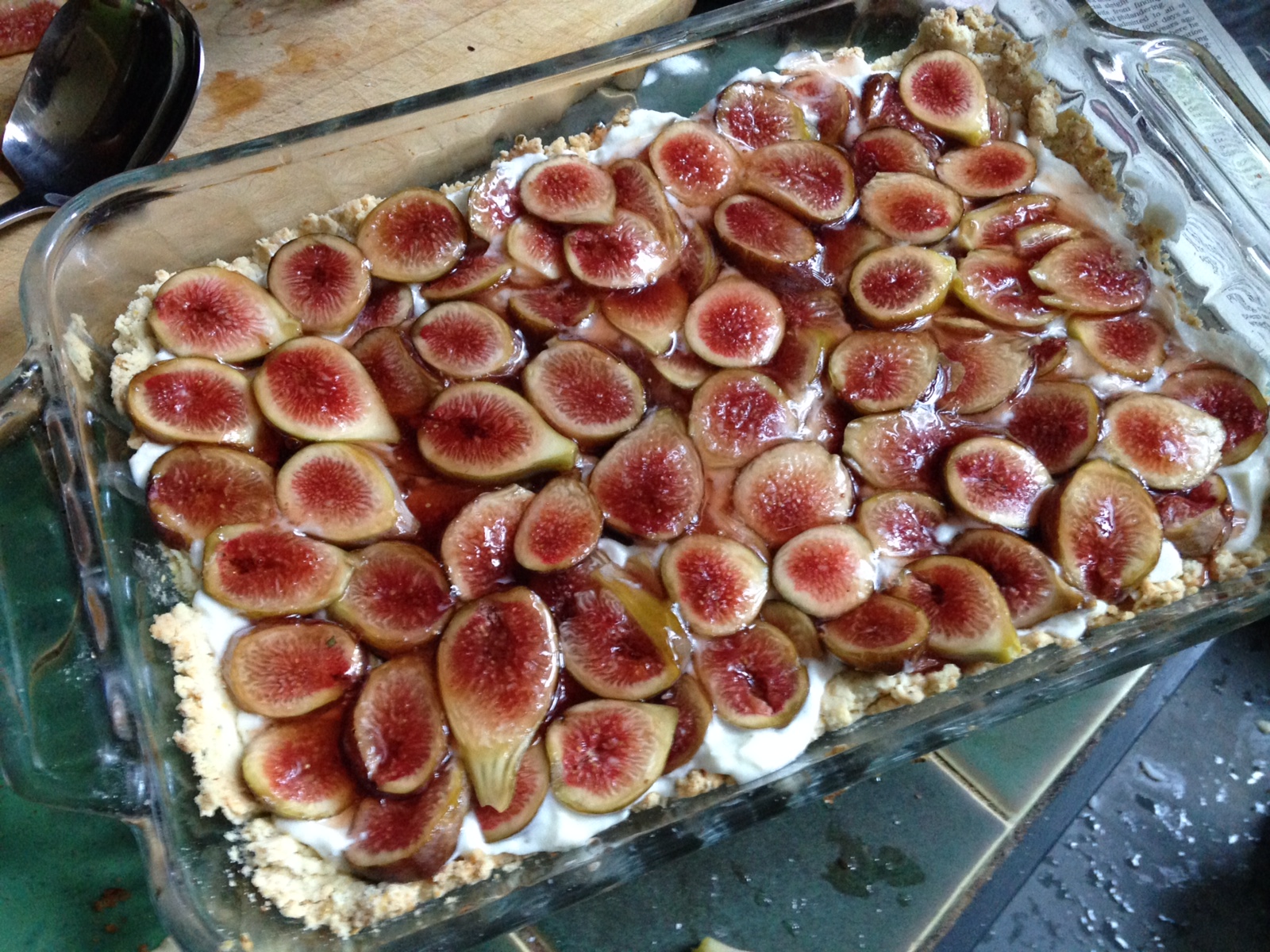 For crust
1 1/2 cups all-purpose flour
1/2 cup Riverview Farms cornmeal
1 tablespoon sugar
1/4 teaspoon salt
1 stick (1/2 cup) cold unsalted butter, cut into pieces
1 1/2 tablespoons finely chopped fresh rosemary
4 to 5 tablespoons ice water
For filling
1/3 cup sour cream
6 oz Decimal Place Farm lavender fennel chevre
1/2 cup whipping cream
1/4 cup sugar
1/8 teaspoon salt
2 tablespoons One Screw Loose shiraz jelly
1 tablespoon honey
1 1/2 lb fresh figs
Make crust:
Whisk flour, cornmeal, sugar, and salt to combine. Cut in butter and rosemary, by hand or in a food processor, until coarse. Drizzle ice water and toss until just incorporated. Dough should hold gently together when squeezed; if not, add a bit more water.  Press dough evenly onto bottom and up sides of rectangular 11×8" pan, or a 10-inch round tart pan with removable bottom.
Preheat oven to 400°F. Bake crust in middle of oven until center and edges are golden, 25 to 30 minutes (don't worry if bottom of crust cracks), then cool in pan on a rack.
Prepare filling and assemble tart:
Whisk together sour cream, chevre, cream, sugar, and salt in a bowl.
Melt jelly and honey and stir until smooth. Cool glaze slightly.
Remove side of tart pan and spread cream in shell. Cut figs lengthwise into 1/4-inch-thick slices and arrange decoratively over cream. Brush figs with honey glaze.