Chili Rubbed Pork Carnitas
---
Recipe by Paola Villafane
Demonstrated at Decatur Farmers Market on July 19, 2017
---
Ingredients
2 1/2 lbs pork shoulder, 2 inch cubes (Riverview Farms)
2 teaspoons chili powder
1 teaspoon pepper
2 teaspoons salt
1 teaspoon cumin
1 1/2 cups of water
1/2 onion, thinly sliced (Local Lands)
4 garlic cloves, peeled (Riverview Farms)
a splash of orange juice
a splash of olive oil
1 teaspoon dried oregano
---
 Directions
Thaw meat and cut into cubes.
Mix chili powder, pepper, salt, and cumin together in a small bowl. Rub spice mixture onto pork.
In a medium sized pot (oven safe is recommended), add the pork and the remaining ingredients and bring to a boil. Stir occasionally.
Reduce heat to a simmer and cook for 1 1/2 to 2 hours, or until all the liquid has evaporated (fat will be left behind). Remove from heat and separate pork from fat.
While the pork is simmering, preheat oven to 450 degrees.
Place pork into an oven safe dish if it is not already in one. Pour 1/4 cup of the fat/drippings over the meat. Place in oven and cook for 15-20 minutes until tender.
Serve with tortillas and salsa for tacos.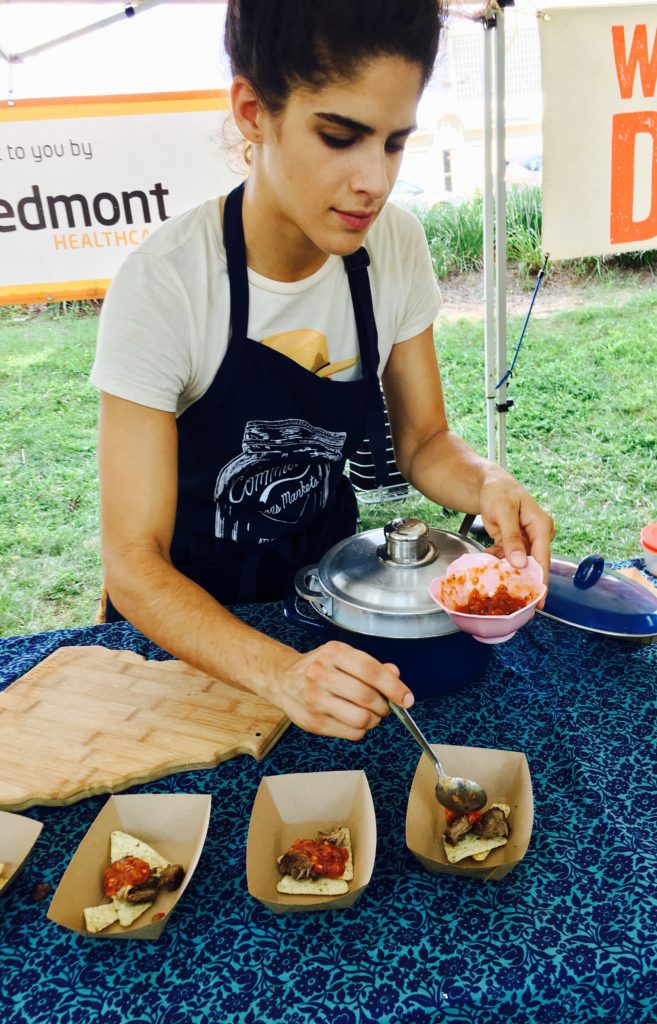 ---

Our at-market educational chef demos are made possible by the generous support of Les Dames d'Escoffier International – Atlanta Chapter and Piedmont Healthcare.