Eat Local Challenge
Is there anything better than challenging yourself to diversify your habits? Perhaps if the challenge results in positive growth for some of your favorite farmers and vendors too? Beginning this Sunday, September 21, 2014, CFM invites you to join the Eat Local Challenge with hundreds of others in the Atlanta area.

The Eat Local Challenge is hosted by Community Farmers Markets, Georgia Organics, Wholesome Wave Georgia, and the Atlanta Community Food Bank. The challenge is sponsored by Garnish and Gather, who will be donating an amazing prize package to one lucky participant (see below for an example of one of their tasty meal kits)!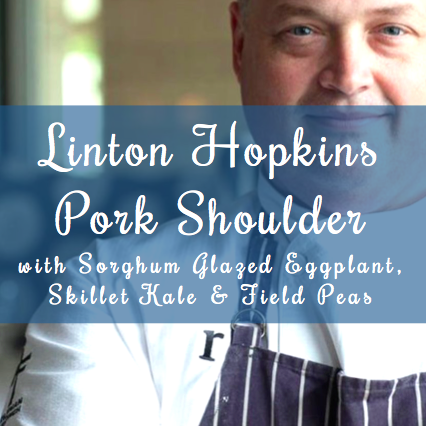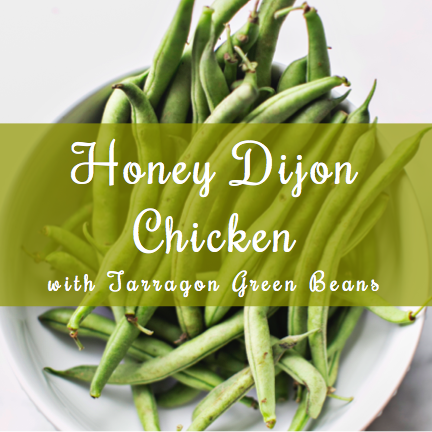 The rules of the Challenge are simple and flexible. You can choose to take the ultra strict route, the ultra lenient route, or any route in-between!
Rules of the Challenge
Sunday September 21st, 2014 and ends Sunday September 28th, 2014.
Any effort to use local products will have a positive effect on your awareness of your food's origins, the local economy, and the environment. You can upgrade or downgrade your level of strictness as needed – start small and take little baby steps and find your comfort level. Trying is the most important step. Having fun is the second. Explore, learn and enjoy!
The Atlanta Eat Local Challenge is divided into 4 levels of strictness:
Ultrastrict
The most strict. Participants in this category are limited to consuming products that can be grown, caught or raised within two hundred miles. Imagine yourself a Native American Indian limited to only the foods that were available from the region. Though much like these hunter/gatherers of pre-Columbian days, the Ultrastrict followers of this contest will find it much easier to "gather" foods in 2014 at the farmers markets. With the availability of a much greater variety of many fruits and vegetables and seafood, meats and cheeses, this level, though difficult, is definitely doable. Wine and beer from Georgia would of course be included!
Strict
On this level you are allowed all of the foods on the Ultrastrict Level plus will allow you to eat or drink three "vices" (non-local food items). On this level participants can still go 95% of the way all-local but can still have a few of some of the things that are hard to grow here, whether it be coffee, chocolate, pineapples, French wines, imported cheeses etc. You can keep your diet varied and change your three non-local food choices from week to week. On the strict level you are also allowed 3 meals a week to be completely unregulated and off the wagon. Whether at a restaurant with friends, or a business lunch or just in your own kitchen you can fix your favorite non-local meal. This will allow you to go to business lunches and dinner parties.
Lenient
This level is for the beginning locavore and allows one to have up to six non-local food items and up to six meals for the week that are "off the wagon". But even at this level, if you are limiting the rest of your meals for the week and recognizing what foods are from this area you are still a rock star.
Ultra Lenient
If you think you can only pull off 2 or 3 days tops. If you will be traveling for most of the week or you have 6 children or work 60 hours a week and you think there is no way……BUT if you still would like to give it a try, and YOU ARE IN and you will do your best when you can and would like to support this effort, then this is your spot.
Where to buy local? The easiest way to buy local is shopping at your local outdoor farmers markets, a full list can be found here: http://www.cfmatl.org/markets/other-partner-markets/
Eating locally is easy in Georgia, check out Georgia Organics Good Food Guide for grocery stores, farms, restaurnts, and more.
Special Notes for All Participants.
Please share your experience on social media using the hashtag #EatLocalATL
Bending the rules is to be expected – just keep track of what's hard and what's easy. If you find a good substitution for a hard to give up food item, post it to help others to stay within the locavore boundaries. Share all of your experiences by posting with #EatLocalATL to be entered into a raffle to win the grand prize basket of market goodies worth over $250.
Sign Up: Registration includes a sticker or magnet (can be picked up at Grant Park FM, East Atlanta Village FM, or Decatur FM) and $5 in My Market tokens to spend at the markets. All registrants will be entered to win a free meal from Garnish and Gather and can receive 20% off of meals for the week of the challenge.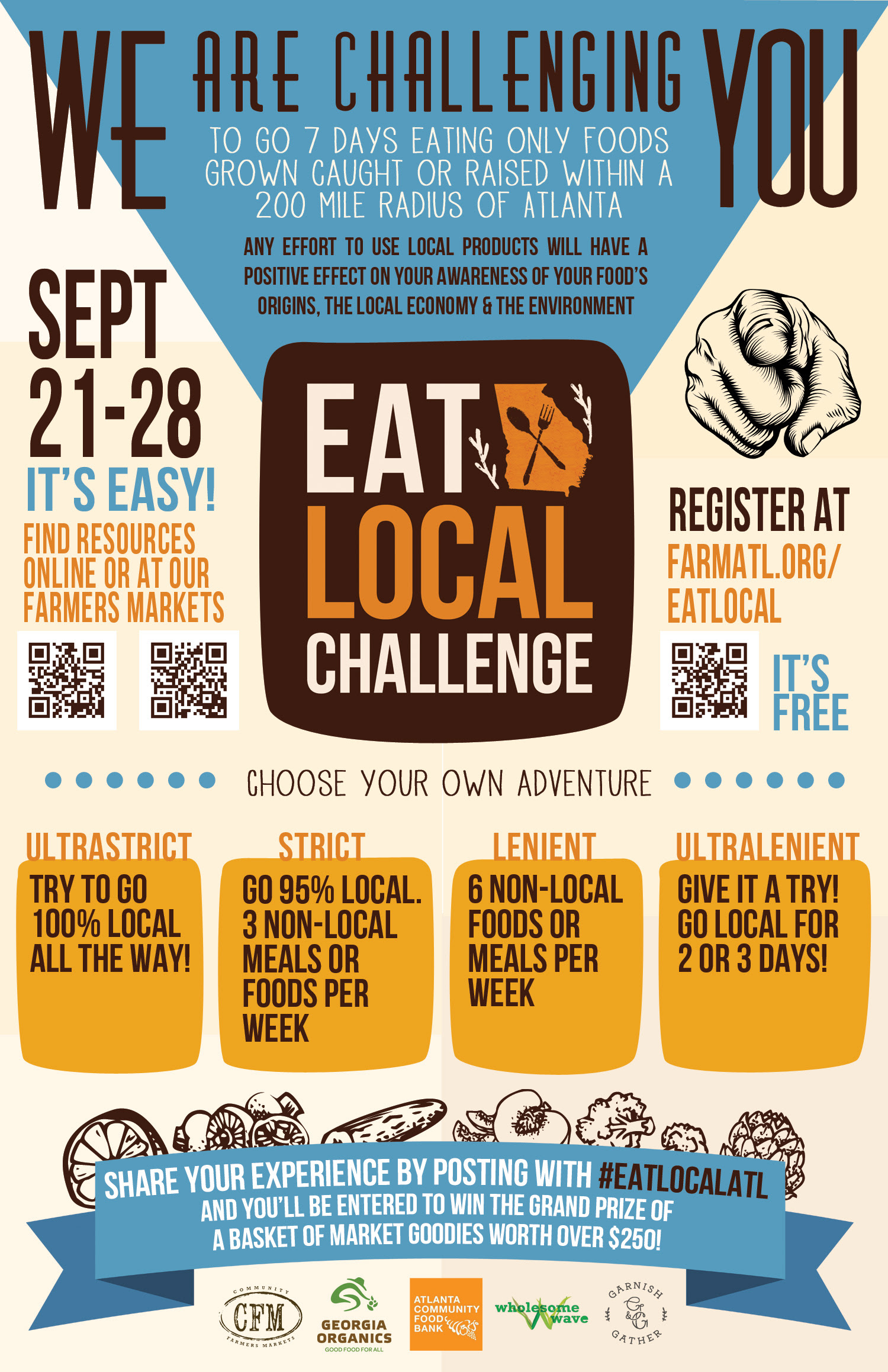 So, do you think you can do it? We know you can!
Love and Peaches,
The CFM Team