Recipe by Chef Julio Delgado of JP Atlanta
Demonstrated at the Westside Farmers Market on May 1, 2016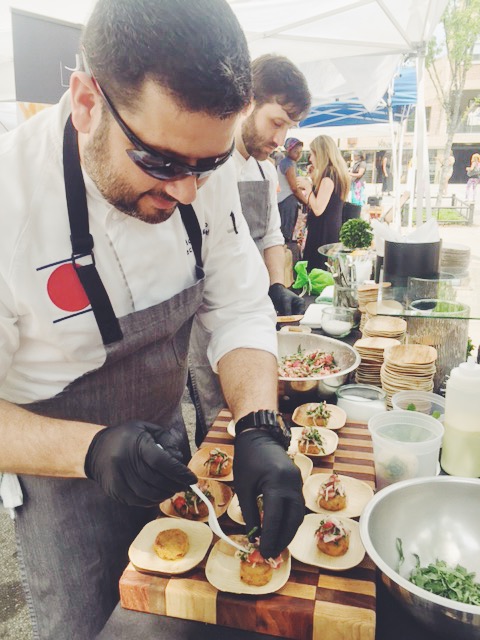 Ingredients:
3 medium Turnips from Cosmos Organics (peeled and grated or cut julienne)
2 bunches of Red Russian Kale from Cosmos Organics (stems removed, cute julienne)
1/2 cup of Herbs – Mint, Basil, Scallions, Chives from Little Fox Farm (cut chiffonade)
2 cups of Strawberries from Little Fox Farm (cut in quarters)
1 cup of Greek Yogurt from Atlanta Fresh
1/4 cup of Lemon Juice
1 oz. of Tarragon (stems removed)
1 oz. of Parsley (stems removed)
3 oz. of Olive Oil
Sea Salt and Pepper to Taste
Directions:
Place the turnips, kale, strawberries and the ½ a cup of herbs into a salad bowl.

Using a blender, blend the yogurt, lemon juice, tarragon and olive oil. Season with salt and pepper.

Slowly add the yogurt dressing to the turnips mix and season with salt and pepper.

Serve the turnip, kale and strawberry salad with your protein of choice. In this case, we use a chicken croquette. Other substitutions can be grilled chicken breast, grilled fish or steak.