Pumpkin Curry Stew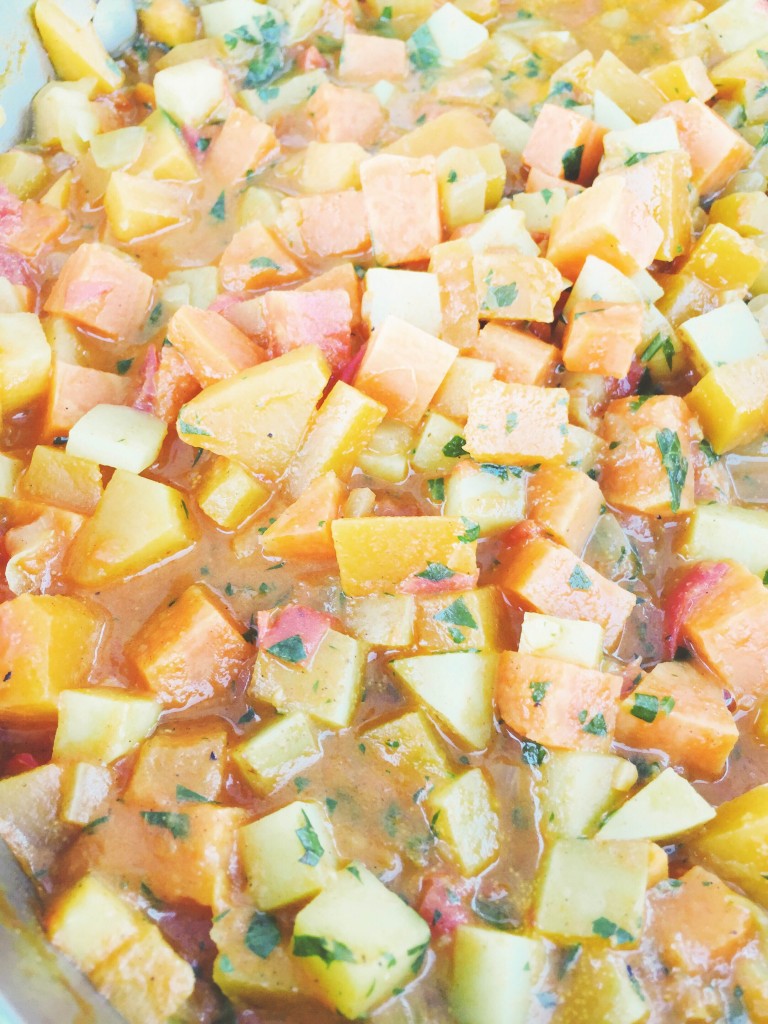 This recipe comes to us from Chef Kate Christman of Three Squares Kitchen. We've been lucky to have Chef Kate regularly at our Decatur Farmers Market on Wednesdays, teaching market goers delicious ways to prepare locally grown ingredients. Here's a wonderfully easy and satisfying dish made from classic fall staples.
Ingredients
3 tablespoons olive or vegetable oil
1 onion, finely chopped
2 cloves garlic, minced
1-2 tablespoons curry powder
½ teaspoon cinnamon
1 teaspoon salt
½ teaspoon freshly ground black
Freshly grated or ground ginger
Black pepper
2 tomatoes, chopped
⅔ cup water, vegetable stock, or coconut milk
1 pound pumpkin, peeled and chopped
1-2 carrots, sliced
1-2 potatoes, chopped
Optional Garnish: parsley, cilantro, pepitas, lime juice
Instructions
Heat the oil in a large saucepan over medium-high heat. Add the onion and a pinch of salt. Cook, stirring, until onion begins to look translucent (about 3 – 5 minutes). Add the garlic and cook 1 minute more. Add the curry powder, cinnamon, ginger, salt, and black pepper and cook, stirring, for another 2 minutes. Add the tomatoes and stir until it is looks like a thick sauce.
Add the pumpkin, carrots, and potatoes. Add the liquid and stir to combine ingredients. Raise the heat to high and bring to a boil. Cover, reduce the heat to medium-low, and simmer, stirring a couple of times, until the vegetables are tender, about 20 minutes.
Taste and adjust seasoning. Garnish and serve alone or with your favorite grain.