Recipe by Chef Scotley Innis of Ormsby's 
Demonstrated at the Westside Farmers Market on Sunday, May 15, 2016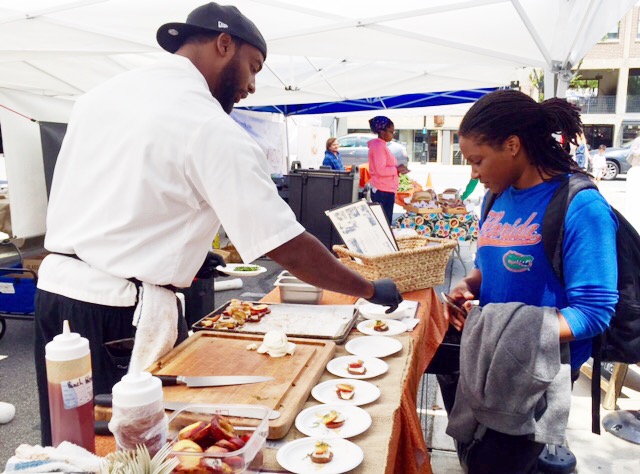 Ingredients:
4 Heirloom Tomatoes
4 Peaches
1 lb. of Frozen Peaches
1 lb. of Fresh Buffalo Mozzarella Cheese
1 bunch of Basil
3 cups of White Balsamic Vinegar
Olive Oil
Salt and Pepper
Directions:
Cut fresh peaches in half and remove the pits. Toss the peaches in olive oil, salt, and pepper to taste, then grill them for 30 seconds. Set aside to cool.

Heat balsamic vinegar over medium-high heat. Add frozen peaches and some sugar and salt to taste. Bring to simmer and reduce by one third (30 minutes). Set aside to cool, then blend the mixture, strain and cool.

Slice tomatoes, peaches, cheese. Create stacks with tomatoes on bottom and cheese in the middle, top with peaches, season with salt, drizzle balsamic mixture over the top and garnish with basil.