Chef Kate Christman made this recipe at our Decatur Farmers Market last Wednesday. She works in our community, teaching about local, seasonal food and healthy eating, and we love the wonderful recipes that she makes at the Decatur Farmers Market. See her website, Three Squares Kitchen, for more recipes & to find out about her services.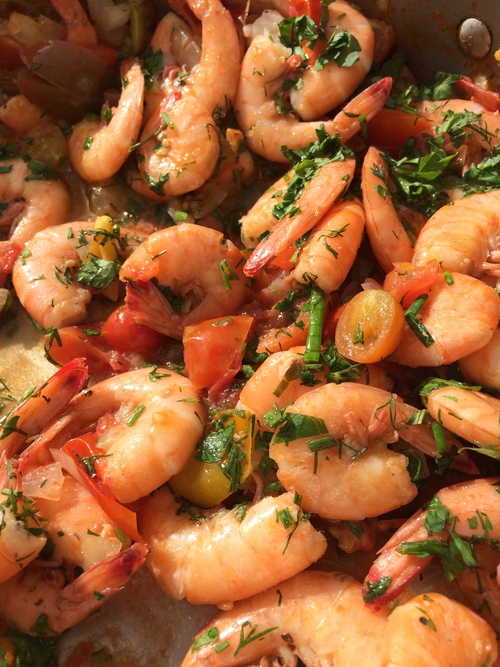 It's hard to get much fresher than this – the shrimp and tomatoes in this dish were both harvested less that 24 hours before they made it to the plate, from Valona Shrimp Company, Mealor Family Gardens and Global Growers. This makes a whole bunch, so be sure to invite your friends and neighbors.
Ingredients
3 onions and a few cloves of garlic, chopped
2 pounds large shrimp (shell and tails on)
4 heirloom tomatoes, diced
1 pint heirloom cherry tomatoes, halved or quartered
Extra-virgin olive oil
Sea salt and black pepper
Fresh herbs, finely chopped (last night I used parsley, dill, tarragon, and chives)
Freshly squeezed lemon juice
Directions
Heat a large saute pan over medium-high heat and add enough olive oil to coat the bottom of the pan. Add onions and a few pinches of salt. Stir and then cover with a lid to let the onions sweat. When they begin to soften and look translucent, add the garlic. If you would like to add some white wine, now's the time to do it. Add about a quarter cup or more and then let it cook off for a few minutes. Next add the shrimp, and tomatoes. Stir, cover, wait 2 -3 minutes and then repeat until shrimp is pink and cooked through. If it's looking too soupy, leave the pan uncovered to let the mixture thicken. Season with salt, pepper, and fresh lemon juice. Sprinkle a good amount of fresh herbs on top.
Serve immediately with sourdough bread from La Calavera and enjoy!