Recipe by Chef Joseph Ramaglia of White Oak Kitchen and Cocktails
Demonstrated at the Grant Park Farmers Market on Sunday, April 24, 2016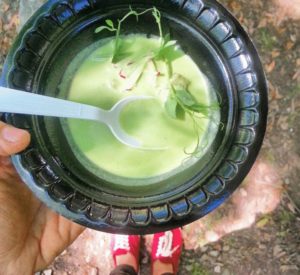 Ingredients:
Veggie Broth
Shrimp Ceviche
Pea Shoots
English Peas
Onions
Garlic
Heavy Cream
Croutons
Mint
Tarragon
Radishes
Directions:
Create a veggie broth using celery, onion, fennel, mint stalk, one orange, one apple (use scrap veggies from other cooking sessions). Allow broth to cool.
Blanch peas.
Blend peas, onion, garlic, tarragon and heavy cream.
Dress bowl with croutons, shrimp ceviche, radishes and pea shoots.
Pour soup into bowl and serve.