This week, from August 7–13th, we celebrate our local farmers, producers, artisans, and the communities surrounding them with National Farmers Market Week. It marks the beginning of Eat Local Y'all, where we'll explore different benefits and aspects of farmers' markets every week until October.
There's much more to farmers markets than just healthy food, smiling faces, and handmade goods. Every time you purchase something from your local farmers' market, you help to:
Preserve America's rural livelihoods and farmland.

Farmers markets provide one of the only low-barrier entry points for beginning farmers, allowing them to start small, test the market, and grow their businesses.

Stimulate local economies.

Growers selling locally create 13 full time farm operator jobs per $1 million in revenue earned. Those that do not sell locally create 3.

Increase access to fresh, nutritious food.

Several studies have found lower prices for conventional and organic produce at farmers markets than at supermarkets. Due to this and other factors, 52% more SNAP households shop at farmers markets and from direct marketing farmers today than in 2011.

Support healthy communities.

Farmers market vendors educate their shoppers. Four out of five farmers selling at markets discuss farming practices with their customers, and three in five discuss nutrition and how to prepare food.

Promote sustainability.

Three out of every four farmers selling at farmers markets say they use practices consistent with organic standards.
We'll be exploring more topics in-depth in the coming weeks including: Tasting Real Food, Fostering Sustainable Farming, Promoting Food Justice, and Teaching Children to be Stewards of the Earth. Each week, we'll be sharing different ways that farmers markets improve our communities, and we'll have different market activities every week. Starting this week, visit the market for:
Photo Booth
Stop by the information booth this week and tell us why you love your farmers market! Each week we'll have a different question for you to answer, so stop by and add to the conversation.
Temporary Tattoos
Vendors will have temporary "I ♥ Farmers Markets" to give out with every purchase.
Buttons
Pick up a free "Eat Local Y'all" button from the activities booth.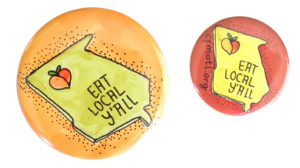 As always, we'll still have music and food demos at market. Throughout the next 11 weeks, be sure to take pictures and use the hashtag #eatlocalyall, because we love seeing and sharing all the stories that our markets bring together.