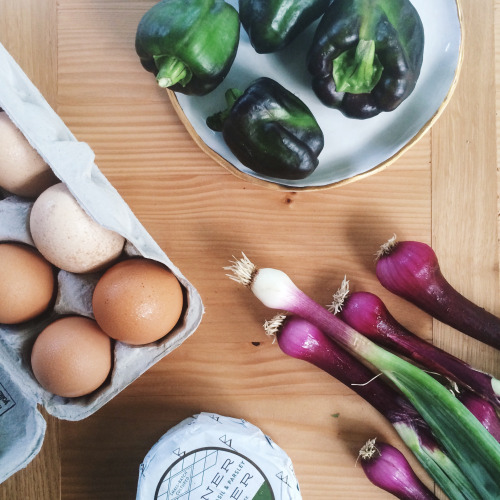 Oh, delicious omelette. You are the classic standby for a hearty breakfast or a simple and quick dinner. When you're using farm-fresh eggs and cultured butter, the flavors in this traditional recipe shine to create an outstanding meal. Serve with a side of green salad et voila, dinner is served! We'd like to thank Banner Butter for contributing this week's seasonal recipe from their own blog. You can buy everything you'll need for this recipe at our markets for a truly local and satisfying meal.
INGREDIENTS:
1 sweet pepper
1 small onion
1 slice of bacon
2 eggs
1/8 cup feta
Pat of Roasted Garlic, Basil, and Parsley butter
INSTRUCTIONS:
Dice peppers & onion
In a skillet, cook bacon, turning occasionally, until browned. Remove from heat, chop, and set aside.
Drain all but one tablespoon of bacon grease from skillet and add peppers and onion. Saute over medium heat with a pinch of salt until soft, about 3-5 minutes. Set aside.
In a mixing bowl, add 2 eggs, salt and pepper. Whisk thoroughly.
To a medium skillet, add 1 pat of butter. Place over medium heat and swirl pan to coat butter. Add whisked eggs and cook without stirring until mostly cooked through, about 3 minutes.
Top eggs with cooked peppers and onion, chopped bacon, and feta. With a spatula, fold in half. Slide omelette onto plate and garnish with additional feta if desired.