This tasty recipe comes to us from PeachDish, an Atlanta-based company that delivers delicious farm-to-home meal kits for chef-created recipes right to your door. We're excited to have them as a newer fixture to our markets, and over this winter, you can find them at our Decatur Farmers Market on the first Wednesday of each month. Recipe by Seth Freedman; photos courtesy of PeachDish.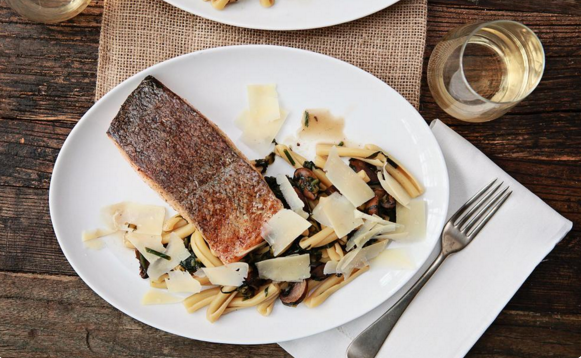 We love pastas of all shapes and sizes, but casarecce is definitely on the top of our list of favorites these days. Casarecce is topped with tender, flaky roasted salmon and mushrooms add a subtly wild, earthy flavor throughout the dish. Dandelion greens were written into the original recipe, but we think most dark green leafy veggies would work wonderfully in the dish as well; they add delicious texture and color. This dish is topped with a healthy sprinkling of Parmesan for a salty, savory finish.
Ingredients
12 oz. fresh salmon filets
1 tsp. Aegean sea salt, from our friends at Beautiful Briny Sea
2 tbsp. olive oil, divided
1 tbsp. kosher salt
6 oz. casarecce pasta
6 oz. crimini mushrooms
4 oz. or one medium-sized bunch dark leafy greens
1/2 cup sherry cooking wine
2 tsp. turbinado sugar
1/4 oz. chives
2 tbsp. butter
2 tbsp. grated Parmesan cheese
Instructions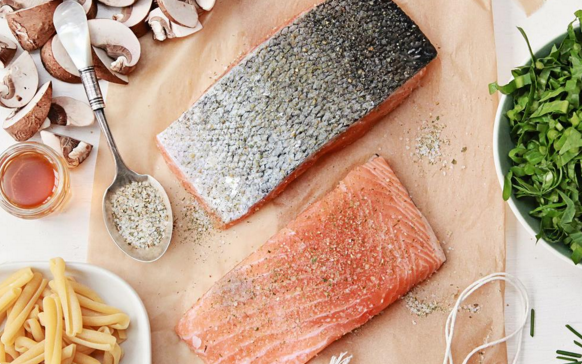 1, Please take the time to read through the entire recipe before beginning. Also note, it will be helpful to have two timers when preparing this recipe. Preheat oven to 400 degrees.
2. Season the salmon filets on all sides with 1 teaspoon of sea salt, coat with 1 tablespoon of olive oil, and place in an oven-safe pan or dish. Let stand at room temperature while you prepare the pasta and sauce.
3. Combine the 1 tablespoon of salt with 6 cups of water and place over a high heat.
4. While the water is coming to the boil, thoroughly wash and then finely chop the dandelion greens. Remove the stems from the mushrooms and discard them. Cut the mushroom caps into 1/2-inch wedges. Cut the chives into 1/2 -inch pieces.
5. Place the pasta in the boiling water, set a timer for 9 minutes. Put the salmon in the oven, and set a timer for 12 minutes.
6. Add 1 tablespoon of olive oil to the heated skillet, then add the mushrooms. Cook for about 2 minutes, or until browned, then stir to turn the pieces. Add the dandelion greens, and continue to cook while stirring for 2-3 minutes, then add cooking sherry.
7. Remove the skillet from the heat, and stir in 1/2 cup of the pasta cooking water to the pan and 2 teaspoons of turbinado sugar.
8. Strain the pasta, and then add to the greens along with the chives and butter, stir well to combine.
9. The salmon will be fully cooked when it is opaque, and firm to the touch. Serve the pasta, and top with grated parmesan, Enjoy!