Kale Strawberry Pecan Salad

"A vibrant fresh salad packed with vitamins A, C, E, & K and minerals such as iron, calcium, & potassium"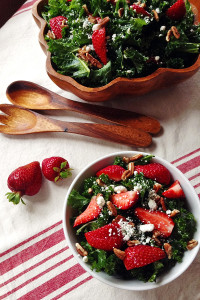 Prep Time:

15 minutes

Servings: 

4-6 servings
INGREDIENTS:
For salad:

1 bunch kale, stalks removed and discarded, leaves thinly sliced

1 cup strawberries, sliced

¼ cup pecans, chopped

4 oz feta or goat cheese, crumbled

For vinaigrette:

¼ cup olive oil

2 tablespoons vinegar

½ lemon, juiced

2 teaspoons honey

¼ teaspoon salt (or to taste)

¼ teaspoon black pepper (or to taste)
DIRECTIONS:
In a large bowl, combine kale, strawberries, pecans and cheese.

To make vinaigrette, whisk together oil, vinegar, lemon, honey, salt and pepper in a small bowl.

Pour vinaigrette over the salad and toss to coat. Serve and enjoy!

Tip: Choose locally grown produce to support your local farmers!