Are you up to the challenge of eating locally for the week of Sept 13th – 19th? We have so many delicious ideas to help you on your quest! Here's a list of satisfying meals & snacks that you can procure from local producers. And, with having the best of summer and fall produce in season right now, your options are limitless! This list should give you plenty to work with for the week, and a lot of the ideas make for great leftovers, so make it easy for yourself and don't skimp on your portions. Just don't forget to share your experiences on Facebook & Instagram by tagging Community Farmers Markets & using #EatLocalATL to enter our raffle for a gift basket of market goodies worth $250! Happy eating!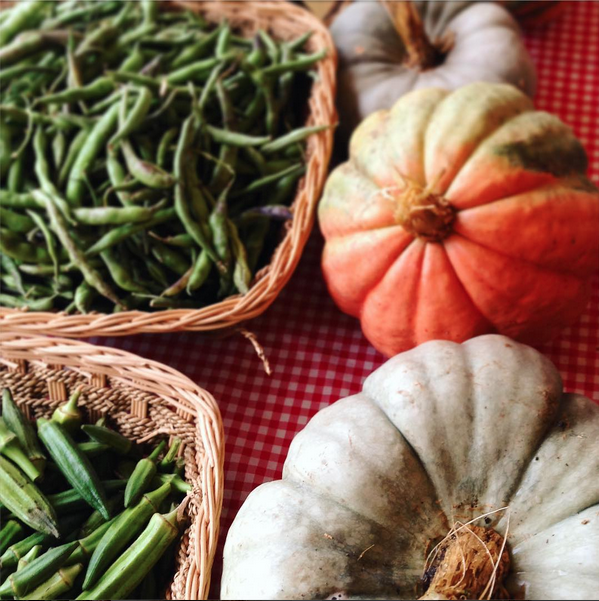 Breakfast
Eggs with sauteed greens
Frittata with potatoes or other root veggies
Cheese (Formaggio, Many Fold Farm, Decimal Place Farm) & jam (Preserving Place, One Screw Loose, Dragonfly Designs) on toast
Yogurt and granola (AtlantaFresh, Sweet Georgia Grains, Lupa's Kitchen)
Green smoothie: yogurt (AtlantaFresh), honey, herbs (mint works great), fruit (apples now, or frozen fruits from other seasons), ginger & turmeric (Love is Love Farm). You can also make this as a juice by adding carrots, beets, cucumbers, (leaving out the honey and yogurt).
Snacks
Roasted curry okra "chips" (slice okra long-ways, toss in EVOO and curry powder, salt, pepper and roast)
Pan fried shisito peppers (fry in hot pan EVOO in pan until peppers blister and pop)
Raw veggies and dip (try this Herbed Buttermilk Ranch)
Apples (Mercier Orchards ) & nut butter (from NaturAlmond)
Bread with salty Banner Butter and sliced radishes
Veggies & Sides
Kale and apple salad (massage kale with olive oil and an acid like apple cider vinegar or citrus to breakdown), apples, add nuts, seeds, other veggies, S&P
Caprese salad- toss mozzerella (Formaggio), various tomatoes, basil, olive oil, salt & pepper
green beans and tomatoes – sautee green beans, tomatoes, onion, garlic. This works for other green veggies, too.
Pan seared turnips – cut in half, toss in oil & salt, sear face down in hot pan
Sweet potato fries – peel and slice sweet potatoes into 1/4 inch thick sticks, add your favorite seasoning and roast at 450 for 20 mins turning occasionally.
Dinner Mains
Pan roasted trout (Riverview Farms)
Slow cooked roast in crock pot – Brown beef, pork or multiple cuts on each side with salt and pepper in a hot pan. Drop them into a crock pot with red wine, tomatoes, onions, root veggies and let cook while you're at work! This will be even better the next day, so make a big batch.
Roasted butternut squash soup – Roast squash (can add apples, too) until tender. Sautee onions and garlic in oil until translucent in stock pot. Add squash "meat" into pot (leaving the seeds & skin out), herbs and broth and simmer for 15 minutes. Leave chunky or puree.  Can add cream, butter, nut milk, spices, etc. to vary texture and flavor.  Cook sage in butter as a delicious topper.
Shrimp and grits (Valona Shrimp Company, grits from Riverview Farms) – Cook shrimp in butter, use the shells (from previous shrimps) to make a stock, cook grits in shrimp stock (or any stock), add buttermilk, butter, salt and pepper.
Whole roasted chicken with root veggies – Rub the chicken with salt and pepper and cover it with oil all over. Cut veggies, toss them in oil, salt and pepper and place them in bottom of a roasting pan cook on 425 for appx. 1.5 hours or until juices run clear.
Homemade pizza dough with smashed tomatoes, arugula and mozzarella (Formaggio)
Apple (Mercier) and gouda cheese (Formaggio soup
Pork chops (Riverview Farms) with herbed Banner Butter