Where to buy meat from our markets and spectacular side recipes
We all know that meat tends to be the star of any grill out, and we're confident that you've got enough tricks up your sleeve to do it right! In light of that fact, here's a list of where and when you can buy high quality, sustainable meat from our markets, and tips for using market produce for the delicious, crowd-pleasing sides you'll need.
Livestock Farmers & Meat Vendors: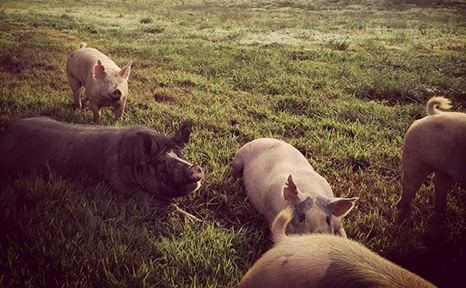 (Riverview Farms' happy pigs)
Grant Wallace Farm – chicken (Grant Park- Sunday)

Many Fold Farm – lamb (Grant Park- Sunday)
Partnership Farm – pork (Decatur- Saturday)
Pastures at Rose Creek – beef, chicken (Grant Park- Sunday)
Riverview Farms – beef, pork (Decatur- Wednesday, Westside- Sunday)
Spotted Trotter – cured meats, sausage, bacon (Grant Park- Sunday)
Tink's Grass Fed Beef – beef, chicken, pork (Decatur- Saturday)
White Oak Pastures – beef, chicken, pork (East Atlanta Village- Thursday)
Peaches: halve and pit the peaches, brush cut side with oil, grill face down until browned and a little tender. Serve alongside grilled pork or slice and use as a burger topping! Or, top with a dollop of chevre and honey for dessert!
Spring onions: trim the root ends just close enough to clean them, but still keep the bulb together. Dress with oil, salt and pepper and give 'em a nice brown char. Finish with a squeeze of lemon juice.
Grilled bread topped with spring veggies: slice and grill La Calavera bread. Brush with pecan oil from Pearsons and top with freshly dressed greens OR spread on butter and top with sliced radishes.
Have a wonderful weekend!