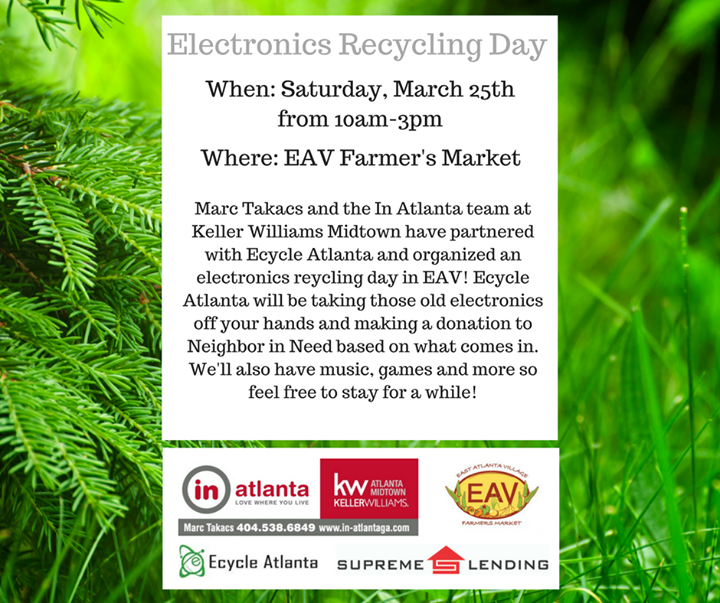 Join us for a free community wide Electronics Recycling Day at the EAV Farmer's Market on 3/25. We are partnering with Ecycle Atlanta, The EAV Farmer's Market, the local Boy Scouts and Supreme Lending for a little fun while you clear out all that stuff! Please reference the list below for items that are accepted and be sure to hang around The Village for the Neighbor in Need Poker Tournament and the Strut Trivia Scavenger Hunt. The whole day is called Riddles, Recycling and A Royal Flush!
LIST OF ITEMS ACCEPTED:
Computers
Laptops
Servers
DVD and CD players
Cell phones, pagers, tablets
Routers, switches, cable boxes, DVR's
Phone equipment (office and home)
Batteries (cell phone, laptop or lead acid only)
Wiring (any type)
Chargers for any battery device
LCD monitors (no CRT monitors)
Keyboards, mice and accessories
Printers, copiers and fax machines
Computer parts including circuit boards, power supplies, hard drives, etc
Satellite and security system equipment (not dishes)
If anyone has an office with numerous devices, Ecycle can schedule a pickup at another time and send the proceeds to your cause.
Televisions (flat screen or tube) and tube monitors (CRTs), or any large appliances are NOT accepted.