This tasty, one-skillet recipe comes to us from PeachDish, an Atlanta-based company that delivers delicious farm-to-home meal kits for chef-created recipes right to your door. We're excited to have them as a newer fixture to our markets, and over this winter, you can find them at our Decatur Farmers Market on the first Wednesday of each month. Recipe by Chef Robert Lupo, photos courtesy of PeachDish.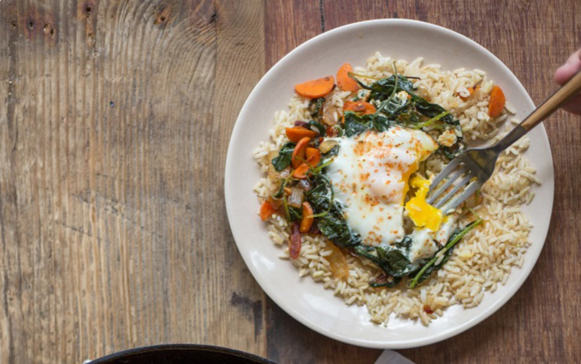 This meal, inspired by a recipe in Barbara Kingsolver's book "Animal, Vegetable, Miracle: A Year of Food Life" shows how very good a simple, "country cookin" kind of meal can be. The runny egg yolk really makes this dish: When it breaks, it coats the braised greens and creates a rich sauce of sorts. To get a nice runny yolk and set white, stick to the lower end of the recommended cook time and touch gently, or jiggle the pan, to test doneness.
Ingredients
1/2 cup Brown Rice
1 small Yellow Onion
1 clove Garlic
3 ounces Carrot
1/2 ounce Sun Dried Tomatoes
6 ounces Braising Mix (could be mustard greens, kale, collards, and the like)
4 small Eggs
1 teaspoon PeachDish Salt (or a savory seasoning salt or kosher salt)
Instructions
1, Make the rice: In a small saucepan with a lid, combine rice and 1 cup water. Place on high heat, and bring to a simmer. Cover, turn heat down to low, and cook 40-45 minutes, or until all liquid has been absorbed and rice is tender. Remove from heat and keep covered.
2. While the rice cooks, prepare your mise en place: Cut or tear braising greens into 3-inch pieces. Peel and dice onion. Peel and mince garlic. Cut carrot in half lengthwise, then thinly slice crosswise. Roughly chop dried tomato.
3. Heat a large skillet over medium-high heat, and add olive oil. When oil is hot add onion and garlic. Cook, stirring occasionally, 3-4 minutes, or until tender and lightly browned.
4. Add carrot, dried tomato, and remaining 1/4 cup water. Cook, stirring, 2-3 minutes more.
5. Stir in the greens. Cover and cook 3-4 minutes to wilt the greens.
6. Reduce heat to medium, uncover the pan, and make 4 equally spaced depressions, each 2-3-inches wide.
7. Crack an egg into each depression. Season the whole skillet with PeachDish salt. Cover and steam 3-5 minutes, depending on your desired doneness. For a runny yolk, the egg's center should still jiggle slightly when the pan is gently shaken
8. Uncover rice and fluff with a fork. Divide rice between 2 plates, and top with eggs and greens. Enjoy!